BNZ LTER Research Overview
The boreal forest is experiencing some of the fastest rates of warming on Earth. Climate warming has radically changed the dynamics of and interaction among disturbance regimes, notably fire size and severity, surface hydrology and the rates of permafrost thaw, and the outbreak behavior of insects and pathogens, resulting in apparent threshold shifts in biogeochemical cycling, successional trajectories, and ecosystem and landscape function. Rural and urban human populations alike rely heavily on ecosystem services provided by the boreal forest. However, economic, social, and ecological changes are affecting human-ecological interactions, cultural traditions, and the provisioning and use of ecosystem services by Alaskans.
The BNZ LTER program is designed to understand the interactive effects of changing climate and disturbance regimes on the Alaska boreal forest and the associated consequences for regional feedbacks to the climate system and sustainability of subsistence Alaskan communities.
Overarching Question: How is the boreal biome responding to climate change and what are the local, regional, and global impacts of those responses?
The Bonanza Creek Long Term Ecological Research (BNZ LTER) program was established in 1987 to study patterns and mechanisms of boreal forest succession following fluvial and fire disturbance, Our monitoring program, long-term experiments, and process studies focused on state factor and interactive controls over succession, trophic dynamics, and ecosystem function of floodplain and upland chronosequences for the first few decades of the programs existence.
During the mid-2000s, we began studying changes to climate warming and the newly emerging landscapes. We developed a more integrated conceptual framework of the interactive effects of climate warming and altered disturbance regimes. This framework, the first to explicitly consider the Alaska boreal forest as a coupled social-ecological system, identified geophysical (fire regime, permafrost distribution, soil carbon and nutrient stores, landscape hydrology), biological (regional biota), and social (cultural beliefs and practices, stakeholder groups, economic and political institutions) variables that contribute to the resilience of boreal forests and communities.
Our current framework extends to focus on how spatial heterogeneity in landscape structure, disturbance regimes and disturbance legacies, and cultural traditions affect cross-scale interactions between local- and regional-scale social-ecological dynamics to influence vulnerability and adaptation to change.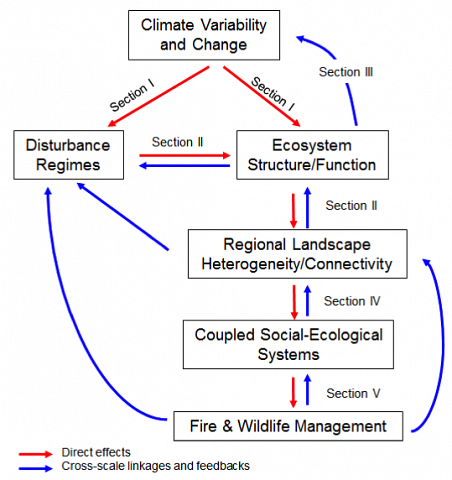 Our research framework is organized around five interconnected themes: