Exploring the impacts & feedbacks of a warming Arctic, Engaging learners in STEM using Global Learning and Observations to Benefit the Environment (GLOBE) & NASA Assets
Culturally Responsive Climate Change Education
The program trains teachers, 4-H leaders, and community members on climate change concepts, culturally-responsive curriculum, and environmental observing protocols in face-to-face and online courses.
Approach – Use various ways of knowing and learning about the environment to help your community address climate change issues.
Learning from elders and community
Co-produced youth-centered projects
Resource matchmaking (GLOBE, BNZ, NASA, etc.)
Indigenous curricula supports
Meet-the scientist sessions
Community action and sharing
---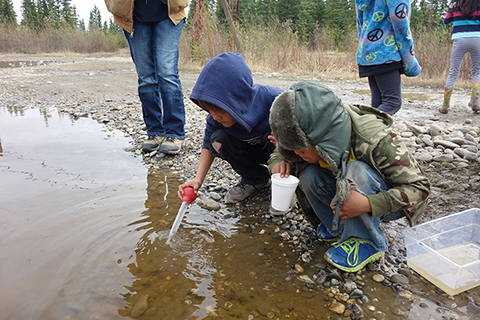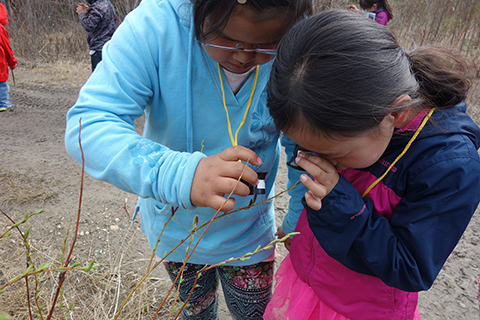 ---
Learning with an Impact
Arctic and Earth SIGNs youth and communities enter interdisciplinary learning on a climate change issue they identify through interviews with elders and NASA data. They design and implement a GLOBE citizen science investigation, and learn more about the issue through a curriculum that braids Western science and Alaska Native knowledge and traditions. They apply the in-depth learning and data they collected to stewardship projects related to core climate change issues of the community.
Scientists also use the data collected through the project to address larger scale climate change or remote sensing questions.
---
Focus for 2020-21:
Birch forest change and cultural values
Renewable energy potential - biomass
Major events:
Virtual Educator workshop
Learning from Kk'eeyh youth camp
Meet the scientist sessions
GLOBE Grandma birch phenology
IBFRA citizen science workshop
Contacts:
Dr. Elena Sparrow: ebsparrow@alaska.edu
Dr. Katie Spellman: katie.spellman@alaska.edu
Meet the Scientist event with USFS and BNZ scientists with the McGrath School – tree biomass measurements using GLOBE Observer Trees.
Educator workshop on boreal forest renewable energy resources and Indigenous relationships with birch.